---
---
DYSMORPHIA
_PaperCollage
COLD EYES, WARM FEET
_PaperCollage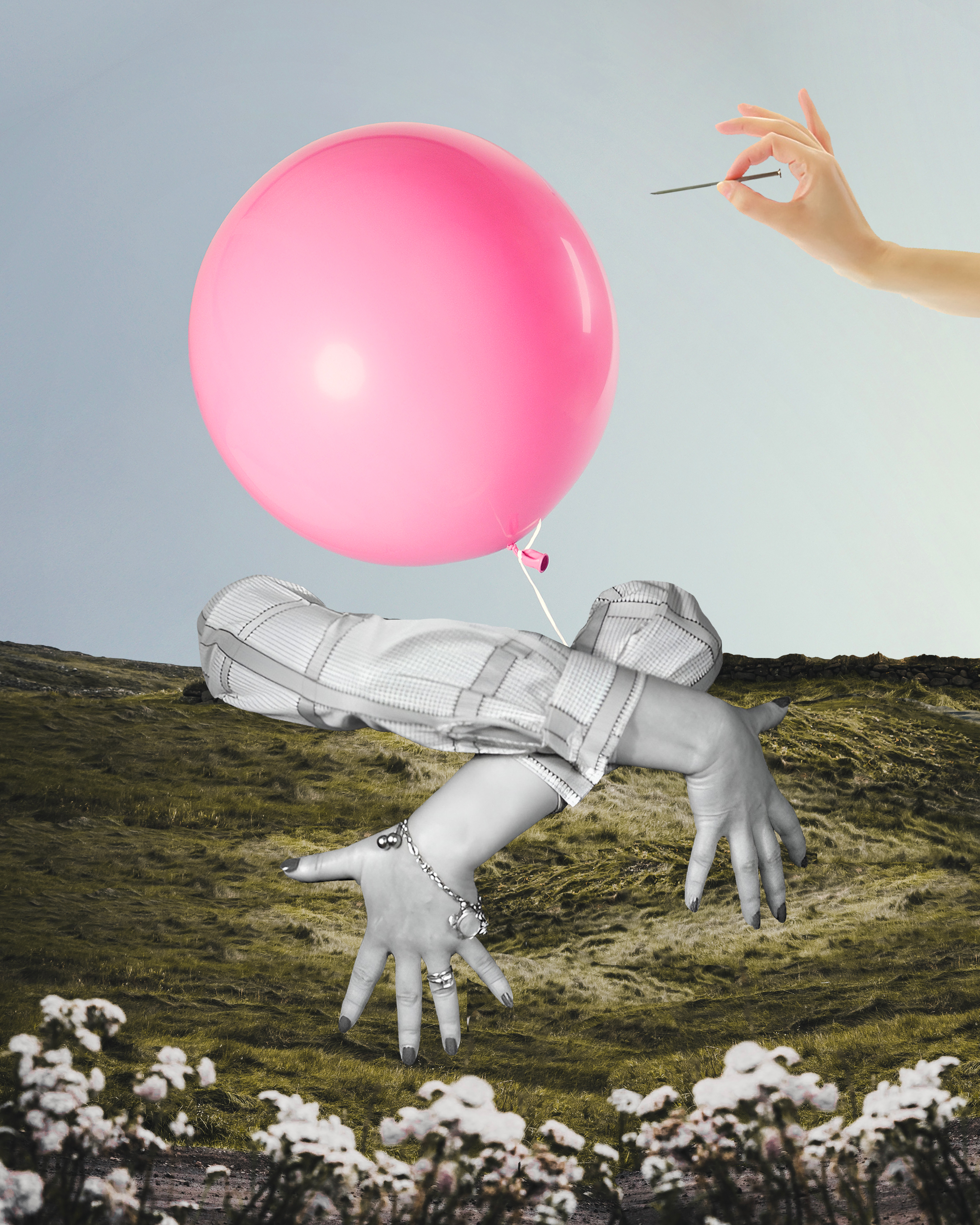 POP
_DigitalCollage
DYSMORPHIA
_PaperCollage
GIRLS JUST WANNA HAVE FUN
_PaperCollage
INTERPRETATION
_PaperCollage
MORNING
_PaperCollage
UNROOTED
_PaperCollage
BREAK POINT
_PaperCollage
ICE CREAM LOVE
_PaperCollage
DYSMORPHIA_PaperCollage
COME ON BABY LIGHT MY FIRE
_PaperCollage
CAN'T BUY ME LOVE
_PaperCollage
SMOKE ON THE WATER
_PaperCollage
SALAD BAR
_PaperCollage
SALAD BAR
_VideoProcess
LET IT SLIDE
_PaperCollage
HIT THE ROAD
_PaperCollage
DYSMORPHIA
_PaperCollage
TO THE MOON AND BACK
_PaperCollage
DRY YOUR EYES
_PaperCollage
COFFEE IS SERVED
_PaperCollage
DYSMORPHIA
_PaperCollage
PERSPECTIVES
_DigitalCollage
SOME FLOWERS NEVER FADE
_PaperCollage
MALE GAZE
_DigitalCollage
FEEDING DREAMS
_PaperCollage
WIPE OUT
_PaperCollage
WIPE OUT
_VideoProcess
MURDER & FRIES
_PaperCollage
BLOSSOMING WOMAN
_PaperCollage
WOMAN IN PROGRESS
_PaperCollage
AIN'T NO MOUNTAIN HIGH ENOUGH
_PaperCollage
PLENTY MORE FISH IN THE SEA
_PaperCollage
FOLLOW MY STEPS
_PaperCollage
NEIGHBOURHOOD WATCH
_PaperCollage
THE BLAZE
_PaperCollage
POOL PARTY ON MARS
_PaperCollage
BRAINWASHING
_PaperCollage
STAY IN, DREAM OUT
_PaperCollage
ICE SCREAM
_PaperCollage
TODAY'S LANDCAPE
_PaperCollage
TODAY'S LANDCAPE
_VideoProcess
TOGETHER
_PaperCollage
REHABILITATION WORK
_DigitalCollage
SNACK IT
_PaperCollage
RUNNING UP THAT HEEL
_PaperCollage
TOXIC THOUGHTS
_PaperCollage
HALLUCINATIONS
_PaperCollage
SUMMER SHOT
_PaperCollage
UNPROTECTED NATURAL RESERVE
_PaperCollage
SCRAMBLED LEGS
_PaperCollage
SCRAMBLED LEGS
_VideoProcess
COVER YOUR MONKEY
_PaperCollage
FEMALITY
_PaperCollage
FISH TALE
_PaperCollage
SWINGING IN THE RAIN
_PaperCollage
TAKE A SLICE
_PaperCollage
MOUTH WATERING
_PaperCollage
TEAM WORK
_PaperCollage
---
---
GREETING CARD
_'Freeandise', talent scooting company
WEB TV OPENING
_'Bota.tv', a show on Twitch about news
ARTICLE ILLUSTRATION
_'L'OBS', french magazine (paper + digital)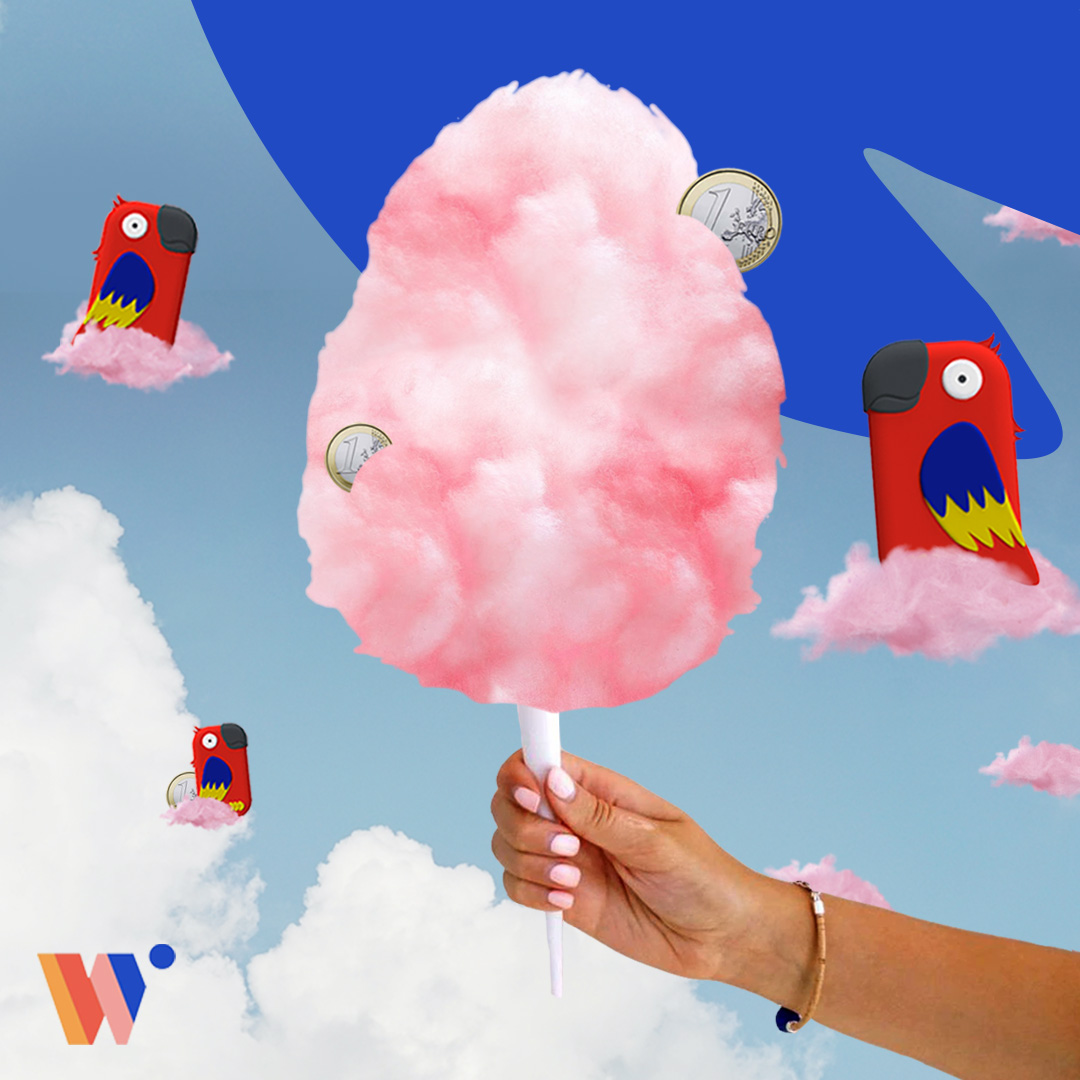 INSTAGRAM POST
_'Money Walkie - contactless terminal for kids
EP COVER
_'Ben Lubin - Interpretation', paper collage
EP COVER
_'Dante Saulino - Igual', musician from Argentina
GIG BANNER_
'Basement Bash', indie rock parties in Berlin
MAGAZINE COVER
_'MakeCreateZine', issue #1 about nature
EP COVER
_'Jack&Cherry', first EP of a folk band from Berlin
PODCAST COVER
_'Les Singulières', a podcast of young women with atypical careers
POSTER
_workshops for migrants and kids at the hospital
MUSIC CLIP
_'Daisy - Du like', french musician. Only paper material. (+600k views on Youtube)
MAKING OF
_'Daisy - Du like', french musician. Dedicated to the collage music clip promotion
INSTA CONTENT
_'Daisy - Du like', french musician. Dedicated to the collage music clip promotion
GREETING CARD
_'Solange Talents', talent scooting company
EP COVER
_'Jack&Cherry', 2nd EP of a folk band from Berlin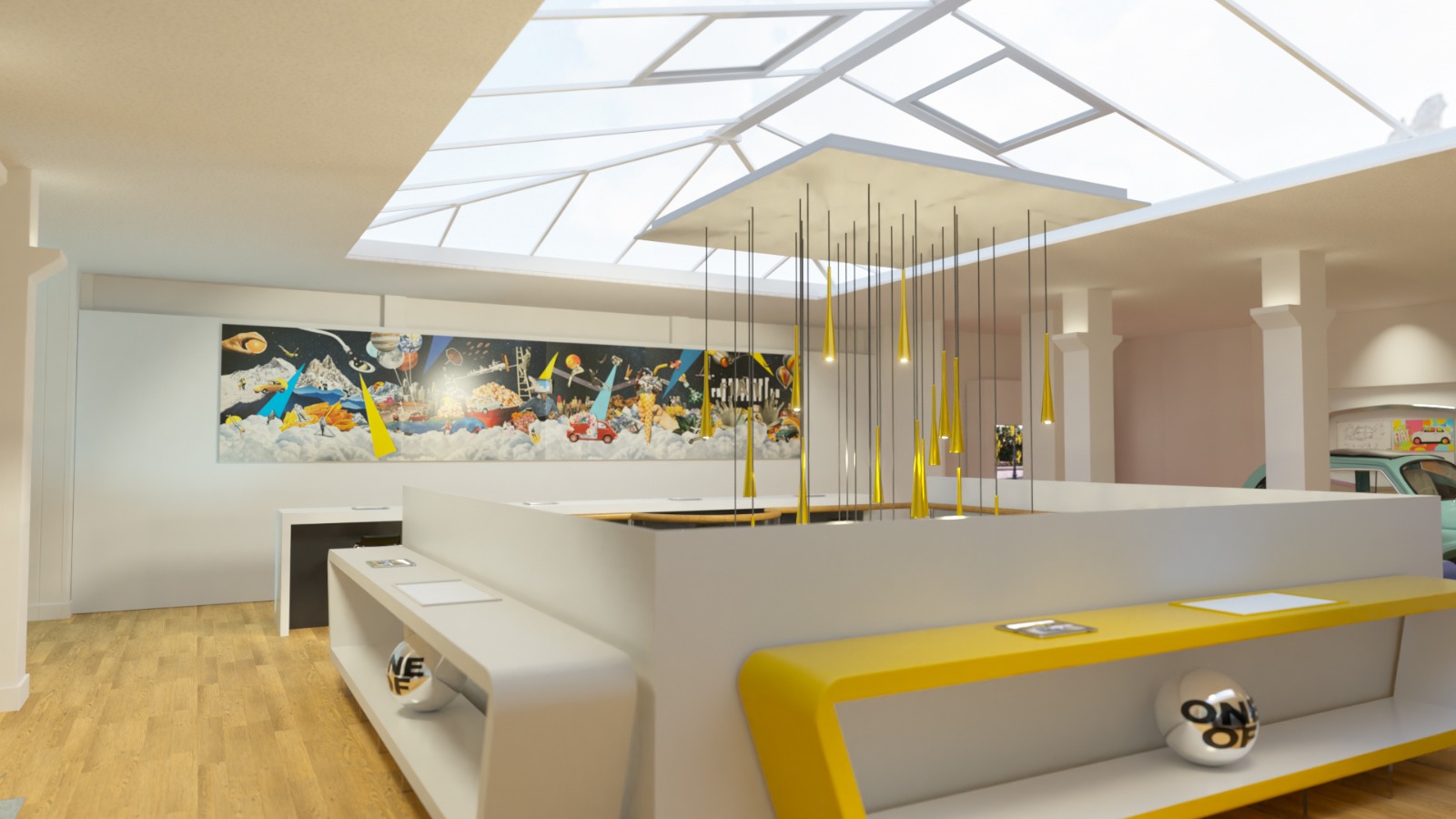 FLAGSHIP
MURAL
_'FIAT', Brand's mural in Champs Elysées Paris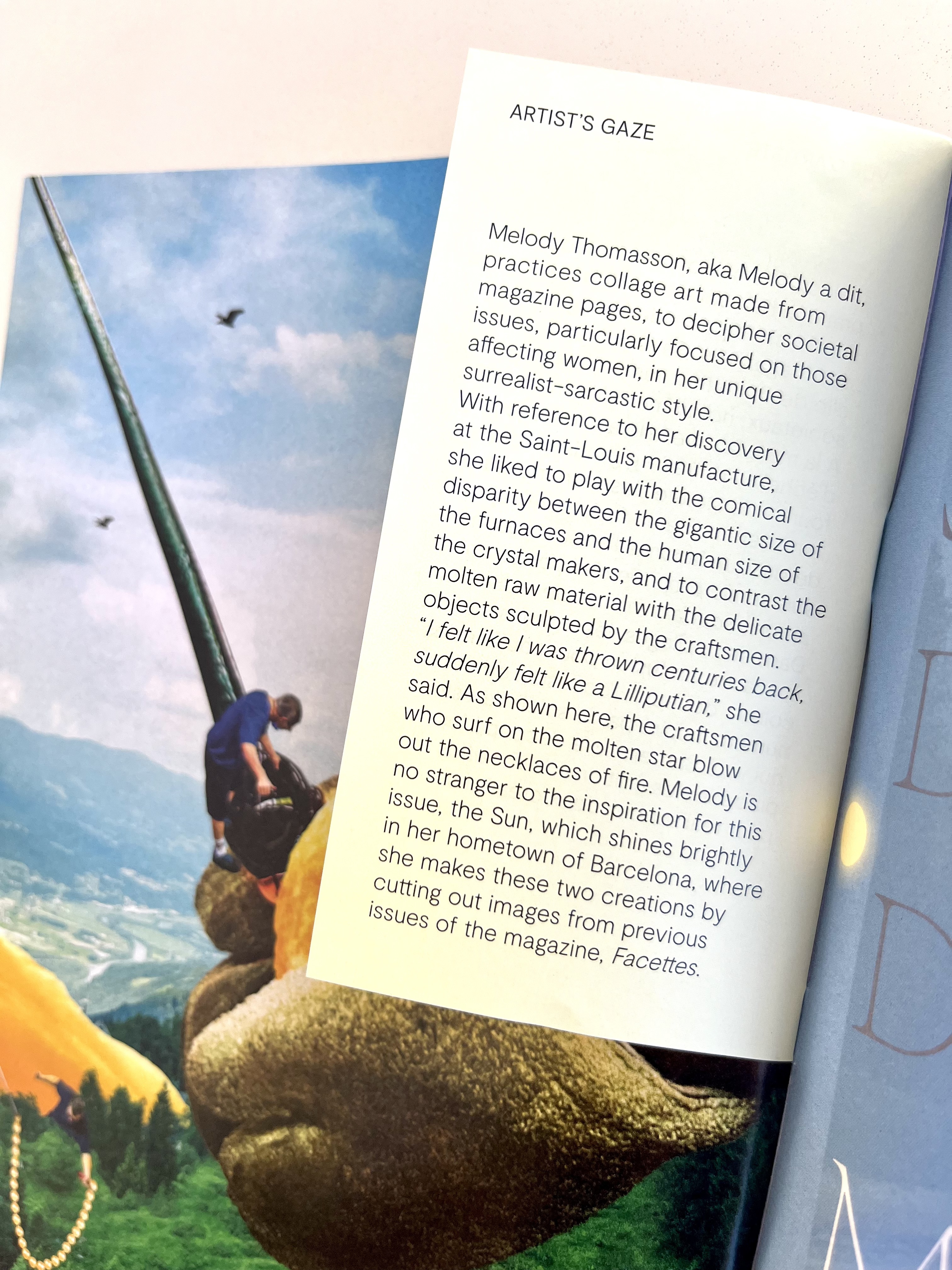 MAGAZINE ILLUSTRATIONS
_'SAINT LOUIS', Hermès Group. Two collages inspired by the theme of the sun. Brand magazine 'Facettes'.
---
---

'French artist based in Barcelona, 'melody a dit' aka m.a.d plays with time, symbols and influences through the practice of paper collage. Far from a hazardous and unexpected process, her works are the fruit of her reflections and personal interrogations, but also of the passing of time and the pages she flips through magazines. Oscillating between real and imaginary, retro and contemporary influences, her collages question reality in abstraction: they sublimate the banal into the marvellous. It all started after a heavy jaw operation. In full convalescence and unable to communicate with others, Melody returns to the practice, which very quickly becomes therapeutic. It is a new language, another way of expressing oneself. The "melody a dit" project ("melody said" in English) was born. Over time, her collages become engaged and become the reflection of the artist's questions and convictions about the world around her. Feminism, ecology, parity, love, education, objectification of women and interpersonal relationships are her most recurrent themes to be cut out. That is why some artworks denounce, others divert, but all communicate the notions of imagination and dreams. Today, she navigates between the paper collage practice for her personal works and digital collage for commissioned works.'


---
PORTFOLIO:
melody-a-dit_gallery.pdf
PUBLICATIONS:
'Visual games: The freedom behind the collage' (EN)
'Rencontre avec Melody a dit - Le collage comme libération des émotions' (FR)
'Melody a dit, la fabrique des images' (FR)
'Melody a dit, solo show in Paris' (FR).